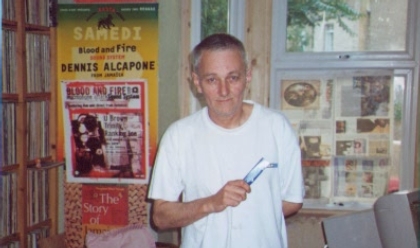 Steve Barrow turns off the stereo and sits down. When I'm about to ask the first question here stares me in the eye and says "Are you here to know more about reggae, or do you know your stuff and wants to talk about Blood & Fire?"
I answer that I've been a reggae fan for about fifteen years, and that I am interested in Blood & Fire but also about what it's like being a white guy in charge of a reggae label. Steve laughs and drops the poker face while explaining that he's gotten many strange proposals about reggae from people who at the most have heard Eric Claptions version of "I shot the Sheriff".
So I', in the home of the East London reggae oracle and founder of super heavy record label Blood & Fire, Steve Barrow. The somewhat oddly arranged interview starts with a session of live dubplates with guys like U-Brown and Ranking Joe, while Steve and his family serves brittish tastes-like-nothing-except-milk-and-water-tea. After that the Blood & Fire-manager shows off his impressive collection of records, with circa 19.000 45:s, 6000 12:s, 4.000 LP:s and 2.000 CD:s. Naturally it's all mostly reggae, but also some jazz, blues and suprisingly Bollywood soundtracks and a double LP with Lars Gulin live in Gothenborg. After that we sit down and turn on the tape recorder.
What philosophy do you have with Blood and Fire?
- The aim is to increase the standards of re-issued reggae so it reaches the same level as jazz or blues. It is simple, I want to save it from the worlds all bargain bins and half price tags just by compiling and presenting it in an attractive way.
Do you think reggae re-issues in general is of low standard?
- I can't say that all re-issues are but the majority is compiled by people who doesn't have a sound knowledge and therefore you end up with a fair share of strange CD's with names like "Paradise Reggae" that has UB40 and Desmond Dekker on the same compilation. Another thing with a lot of these records is that neither artists nor producers get paid for appearing. At Blood & Fire we don't pay big money but at least we do pay. When we issue one single track, everyone involved in that track, get a piece of the cake. As I said there isn't a lot of money in it but the point is that there is money and as a policy it has been very popular with the artists, they are more or less knocking on my door all of them now.
Are the other founders/owners involved in the selection of what music is to be re-issued?
- No, I am the A&R! Bob (Bob Harding) is the MD and he is in that position because he is very good at that while I am the exact opposite. If it was up to me I rather just listen to the music and have a smoke! Mick (Mick Hucknall) and his management are just silent partners at this time but that doesn't make them less important in any manner. And then Dom (Dom Sotgiu) has become assistant to Bob and he also does a lot for the sound system.
The label is owned together with Simply Red and others, he is not exactly a reggae artist?
- That is correct but he is a big lover of reggae. Initially his management wanted to invest in some reggae projects and contacted me to help them out with certain details. It was then I proposed the idea of a company together. I had all the knowledge they were in a sense, lacking. They had the money that I was lacking so it was a natural resolution for everyone, kind of. Mick put down a six digit figure from his own pocket over the first five years of Blood and Fire and since then I have compiled 37 albums, including all the stuff around it with marketing, the sound and parts of the design.
He has recorded a version of Gregory Isaacs "Night nurse", is it available on 7"?
- No, unfortunately not. I would like him to record a whole reggae album. He is a wicked singer and I think he would do fabulous reggae even if it is only covers. Sly & Robbie they love him. He could do it.
What is the future plan with Blood and fire?
- The plan is just to keep going as it is. My dream is to accumulate enough money to be able to record new material with some of the artists that we have re-issued. I would also like to start one or two under labels to Blood and Fire but to be honest I am quite happy with it as it is.
Your latest release?
(Darker Than Blue: Soul From Jamdown 1973-1977)
- It's a project I've had in mind for a long time. But then I see this company, Soul Jazz, come out and do something along those lines and I think they've got a whole new audience there. They're doin' something right here - what is it? What it is for me is that there's known things there. Known, like it's a song, like they'd put a soul reggae cover on it. That's what really got me thinking "let's do a whole album like that". The challenge was there. I said "I'm gonna polish this one until I get it right". My one then comes out and one of the first reviews I read, the guy said "this one is better than Soul Jazz". I don't wanna flop soul jazz, I know them guys, I like them but I wanted to say "yeah, you're on a good thing there, guys" and respect is due. They opened up a new audience. You go to one of they're dances and they drop a record like "Funky Kingston". No one plays that in the dancehalls. That's an LP track recorded for a crossover audience. They still play it and it's one of they're classics.
- The record is our fastest seller. We've sold 15000 in 5 weeks. I said let' s develop some strong comercial sellers. Like Big Youth. People know Big Youth outside of reggae, people might not know that there is a 3 CD box set that they have to have, but we've proved that there is one. No one else can put that material out. Even if they do, we don't care cause it don't sound as good as our release. Like the next one with Gregory, it's been out before but it didn't sound as good. And we got extra tunes on there that are the icing on the cake. "Mr Know It All", "Mr Brown". Fuckin' boss tunes. And it' s not me saying that. It's everyone saying that, cause Gregory was king then
Still is!
- We got more like that next year. Hopefully some Dennis Brown. And then some more obscure stuff.
You worked for a long time at the almost legendary Trojan records, how was that?
- - It had its highs and lows. There have been a lot of different owners and restructuring there and I can say that some have been better to work for than others. Under Chris (Blackwell) Trojan was kicking. When he sold it to his partner, Gopthal, and he brought in some new people it started to go down. When he sold it it was in a mess and near enough bankrupt. The turnover was under £200,000 but mostly through my compilations we managed to turn those figures to a turnover of 1.25 million pounds in just three years. Still after that they came and told me "Steve, this ethnic rasta stuff is all very good but can you put together a compilation of the songs that UB40 has covered?". That's were I got a bit cynical with them and said "yes, but it will cost you a bit because it will mean a lot of work for me". I knew it was a ten minute job that I could to of the top of my head but there you go. After that in 1990 I pulled out of it because it was leading nowhere.
When did you first hear reggae?
- I used to go to a club downtown in the west end of London that played a lot of different stuff around 62-63. In there I heard early ska with Derrick Morgan & Patsy and Prince Buster. I got hooked on that and ska later developed into reggae.I actually first heard reggae in 1968.
What is good reggae?
- Good reggae is bass! It has to have energy that touches you and it should also be a bit mystic or dangerous but those things might be more for fanatics like me!
- What I got to understand really is people need this music. It's not bubblegum. Bubblegum - you don't need it. It's nice when you chew it and blow some bubbles. But after you done that you can't do nothing with it. All the sugar is gone. A lot of music is like that, but reggae in the main is not bubblegum music. It's true expression. And that expression is what I wanna keep faithful to with Blood & Fire. Like Toots and the Maytals "54-46" . Everyone knows that tune, but when you hear it and you hear how pleased Toots was to get out of prison. It moves you! You communicate with him. That 's what a record should do. "I'm in a dancing mood", Delroy Wilson. Any version of that. "Breaking up", Alton Ellis. You know, if you ever broke up with a girl and you listen to that record it'd kill you. Everyone's felt that. So those things are the truth. That's what I like. I don't like the bullshit. I don't like the hype. I'm with the rapper who said "don't believe the hype".
Public Enemy?
- Yeah, but he ain't no enemy. He's a friend. A friend for making that record.
Which is the best song ever recorded?
- That is of course impossible to answer but for 20 years I have always returned to artists like Joe Higgs and Jackie Mittoo so I suppose it is something from them, but which song? It's impossible to narrow it down to one record, or even 100 records!
What do you think about today's reggae or dancehall?
- I still follow it closely and I like a lot of the new stuff but the focus with the label lies on the older stuff. Guys of today I like are people like Sean Paul, Beenie Man. I also like a lot of the new roots guys like Luciano, he is a great artist. Sizzla, Anthony B he is a good youth and his manager Mr. Golding. Capleton as well as some of the crews like Monster Shack, I had the honor to work with them in Austria once and they have a wicked little DJ called Roundhead, he is not such a little DJ but he is indeed wicked! Them guys are modern but they're working in the old tradition of U-Roy, Rankin Joe, Big Youth, Dennis Alcapone. They're coming from the same school. It heartens you to see a guy doing that.
What about the constant versioning?
- - In the eighties it went back to the dancehall in Jamaica. That was good, but it had a limited appeal to the outside world cause it was so self-referential, all the recycling of the riddims. People who where outside could say "it all sounds the same", but it is all the same! It's all on the "Mad Mad" riddim or whatever. And then they went digital, and it's significant that Jammy did that. Cause Jammy had the sound and Jammy grew up in sound. He was an apprentice to King Tubby. So it's that King Tubby thing that revived Jamaican music in the eighties once again, with the Sleng Teng. Sleng Teng is a wicked, wicked riddim. I love it. My favorite cut on Sleng Teng is not Jammy's. It's a Micky Bennett track, the Cocoa Tea song "Oil ting". That's a wicked cut on Sleng Teng, man.
- There's a lot of creativity in the versioning. As well as a lot of non-creativity when you get the follow fashion thing, but there's some decent music there.
Favorite riddims right now?
- - I'll tell what I like in that regard - Dave Kelly. A man that has not had a lot of credit for the modern dancehall, because really it's him behind Beenie Man. Some of Beenie Man's biggest tunes are done by Dave Kelly. He's a main man. When they write the history in twenty years they will be talking about Dave Kelly non-stop. He's been a crucial figure in this. That guy can make a beat, not only a beat that sounds good in the studio but when you play it out in the dance all the crowd have to move to it. People like that. Jeremy Harding and his 2 Hard label... Lloyd Charmers has got a son called Andre Tyrell, Rookie Productions. He's gonna be a force. Maybe not in the next few years but he'll be there trust me. And you got a lot of the producers there that got their families in it, like Jammy got his, Bunny Lee's sons are in it. This continuity, you get it in Jamaica. Because music is a way of life in Jamaica. Cause music is a earner of foreign capital. It is in fact the real natural resource in Jamaica - not tourism, not bauxite, not banana, not ganja, but music! Music is the key to Jamaicas future development, in my opinion.
Quick Questions: Sleng teng or Stalag? ?
- I like 'em both but of those two Stalag is the killer
Punanny or Real rock?
- King Jammy is magnificent but he doesn't exceed the Studio one original of Real rock.
The Cables' "What kind of world" or Morgan Heritage's "Down by the river"?
- It has to be the Cables, that tune is wicked! Morgan Heritage is very talented, extremely talented, but they are a bit to slick for my personal listening taste. That might be because they grew up in America where everything is slick, I don't know. Their drummer is very alike Carly from the Wailers, he is extraordinary to watch in action and so is the rest of the band too. Gramps is a very skilled singer.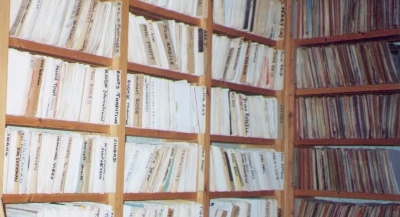 Have you experienced any obstacles being white in the reggae business?
- No, not at all actually. I am a bit surprised over that myself. I have sometimes met curiosity like "why are you so into it when you are white" but there has never been any trouble.
Have there been any advantages?
- Yes, I think so. In this sick and ugly world it is obvious that for example a bank rather lend me, than two-dreadlocked Jamaicans money. It has also been a bit easier to deal with the artists In Jamaica who seems to trust me more than others in the music business.
What do you think of other white guys in the business, Bobby Konders?
- Maximum respect! He was true to his New York roots and managed to combine that or more, present that to the Jamaicans. New York also is a bit of a Mecca when it comes to that whole hip hop remix business which is a bit of his signature.
Rodigan?
- David is one of the best people in reggae music. He is just like me a music lover. He is not doing this to make money or chase little girls. As a selector he can flop any sound in the world and as a person he is great. He has also always backed and given good support to Blood and Fire so I rank him as a top geezer. I see him as a fellow traveler on our slightly odd journey!
Chris Blackwell?
- Same again, a fantastic guy that has given me a lot of support. It is significant to say that he is the man that brought reggae to the world. Without him reggae would have been as popular as African folk music is today and I would certainly not be able to live from it.
Daddy Snow?
- He is not on the same level as the others you have mentioned but at least he is someone who has lived a bit. He is not like Vanilla Ice, made up. Some of the collaborations that he has done are not bad. But he isn't the best I ever heard.
How do you feel about reggae from other parts of the world?
- Oh yes, I like it but I don't hold it as reggae. It is more reggae influenced music, which there is nothing wrong with, but Jamaicans in Jamaica do the real, the primary reggae. Foreign favorites include Baobab from Paris and Ackee & Saltfish from Japan. Those two talk more jamaican than the Jamaicans. It's amazing.
Africa?
- To be honest I don't know so much about African reggae but I have heard Peter Tosh so why would I be interested in Lucky Dube? I mean I don't hear Stone Love playing no Alpha Blondy, do you?
England?
- - I know more about it of course but Jamaica is still primary and the reggae of the UK will always be like a little brother, just like it is with rap.
So what about Mafia and Fluxy?
- Yes, but I hold them more as Jamaicans. They were born and brought up here but they became big when Bunny Lee took them down to JA and sorted out their contact network so you judge for yourself. I know that a guy like Makka B would have been ten times bigger if he had made his career in Jamaica. Junior Kelly has done just that and it has succeeded because it is so much easier there than in Forest gate or Battersea!
What about Sweden?
- Reggaewise it is a white spot on the map but it is a very nice and beautiful country. I've been there five or six times with Blood and Fire sound system.
How did you find the crowd in Sweden?
- The people in Sweden is the same as everywhere else. When that bassline hits, they're jumpin. In Gothenburg it was jumping and also in Lund. We have returned to Lund twice after the first time and always enjoyed it. In Stockholm it was like in all capitals a bit stiffer and cooler. There we also had some irritation with a guy that styles himself as the Guv'. Governor Andy I think. He wanted his cake and eat it as well. He wanted to play support on our night and I said alright, but what he didn't say was that he also had his own night going. So he sent one of his second dj's down to us and still he got a share of our wage. The dj that came down was not bad though and we still rocked the crowd because we had Ranking Joe, Trinity and U-Brown on the mike so we did really well by ourselves. One guy had even flown across from Finland to see us so it was a great dance.
The Rough Guide to Reggae?
- It is exactly what it is, a rough guide. It is not a bible or anything but it is quite clear and easy to grip, isn't it?
Yes, it is excellent. .
- I am the first to admit it isn't complete but to write a complete guide I think you have to approach it like a team of some sort. Large parts of the new updated third edition 2004, is going to be rewritten and we have plans like that then. People that have researched areas that we haven't will be involved to some degree to make it more complete. .
What do you think of Lloyd Bradley's "Bass Culture" that was recently released?
- What can I say, it is a curates egg I suppose. I used to sell him records when I worked at Honest John's in Camden Town He was then a soul guy that bought the odd reggae tune. The book is not bad, but his main source for ska is Prince Buster, which has had the effect on the book that King Edwards, is hardly mentioned for example. I mean he was the champion sound for a while in this period, he run dancehall. And the King Tubby era is a bit misbalanced with a lot on the later rather then the early innovative bit. But he is very good on the English scene in the early seventies as well as the lover's rock so really it is a curates egg. It also has some elementary mistakes in it, still.
Our conversation continues for a few hours and subjects like Johnny Rotten, Inner Circle, jungle and classic swedish jazz movie Sven Klangs Kvintett are also covered. After another cup of tea and more dubplates plus smokes I thanked Steve for his hospitality, packed up my tape recorder and left the Victorian-Jamaican East London house.
/ Captain Morgan